In doing so, Launtel became the first Australian Telco to take advantage of the New Payments Platform (NPP) and PayID to send and receive customer payments faster, more securely and at a lower cost when compared to traditional payment methods like BPAY or credit cards.
The rate of customer adoption of the service surprised everyone, with take up far exceeding expectations.
"Right off the bat we have 23% of new customers and 13% of existing customers using Hello Clever's solution after just 6 weeks, which is way higher than we thought." Adam Poulton – CEO, Launtel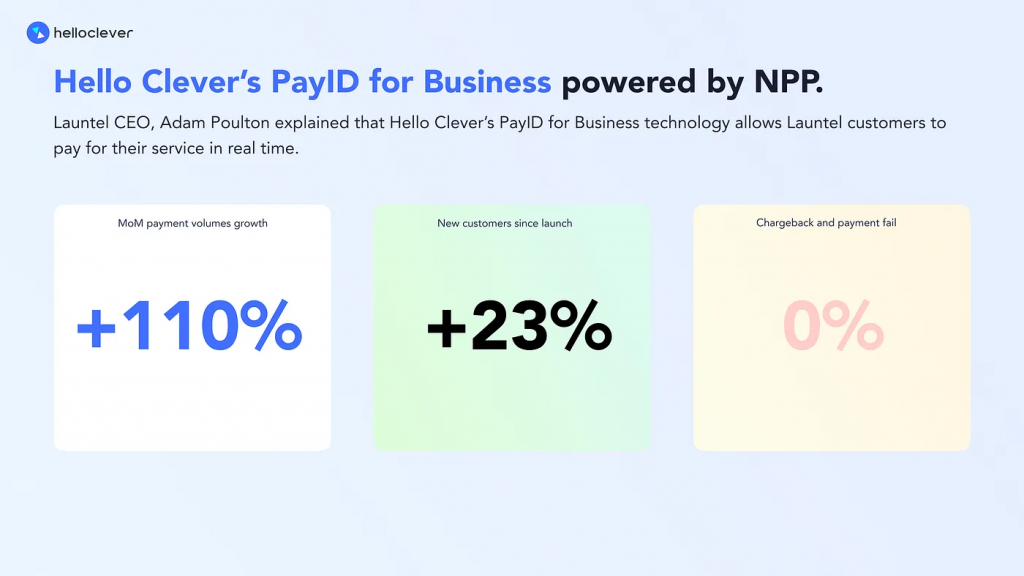 1. Overcome the Challenges
Launtel is different to most Telco's.
Launtel customers can turn their internet service on and off or dial it up or down on demand. This means if they are away on holiday for a few days, running an AirBnB, visiting the weekend shack or living in a share house, Launtel's service can dynamically accommodate their needs. But to be truly effective it requires a fast, dynamic payment method.
This is where Hello Clever PayID for Business comes in, settling account-to-account transactions in seconds instead of days, allowing Launtel's services to be provisioned and paid for immediately.
"In today's real-time economy, businesses like Launtel require a payment system that aligns with its business model, not the other way around."
2. The Chargeback Challenge
Chargebacks occur when a credit card customer disputes a transaction with their bank. This can result in an immediate reversal of the transaction by the bank and a hefty fee to Launtel. All this can happen without the bank attempting to understand the actual reason for the problem.
In Launtel's case, customers often overpaid by mistake and then called their bank to request a chargeback instead of calling Launtel to request a refund. In addition to a hefty chargeback fee to Launtel, their customers had to wait up to ten business days for the refund to be processed to their credit card.
Now, this whole messy process has been removed.
Hello Clever validates every payment to ensure it's correct before it's made. If a refund needs to be processed, Launtel can process it with a click of a button, ensuring it reaches the customers bank account within a few seconds, even on weekends and public holidays.
All this means a vastly improved customer experience, and for Launtel…no more chargeback fees!
"There's a real risk that if we receive too many chargebacks, our provider will cease their service because we are deemed high risk." Adam Poulton – CEO, Launtel
3. The Back Office Conundrum
To truly achieve back-office nirvana, you need straight-through-reconciliation.
This means when a payment is received, it's automatically matched to the right invoice or open item so the books can be balanced properly.
It may sound simple, but many businesses struggle to achieve this at scale with conventional payment methods, which usually rely on the customer providing the correct reference number to match the payment to their account. Not to mention the days between making the payment and receiving those funds.
Inevitably this can lead to errors which take time and money to manually resolve.
Hello Clever removes any manual reconciliation tasks by automatically validating and matching each payment, resulting in straight-through-reconciliation, without requiring the customer to input any reference numbers or other remittance information. And all this happens in a few seconds.
"We want our back office to be as efficient as possible and with Hello Clever, we've eliminated all our reconciliation problems." Adam Poulton – CEO, Launtel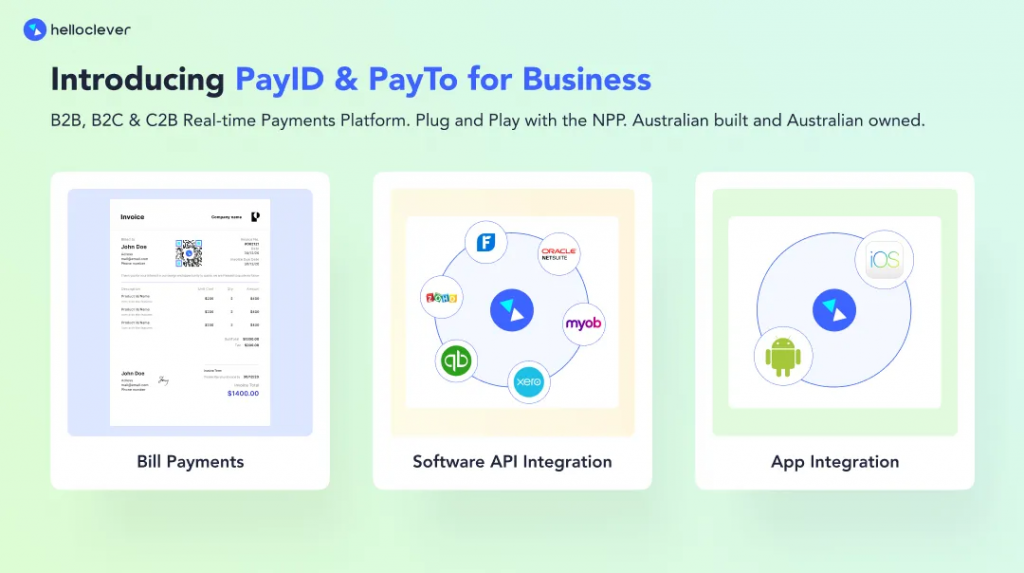 4. Overcoming Payment Fraud
One of Launtel's main goals was to reduce, or even eliminate, the occurrence of payment related fraud and to maintain trust in their brand.
The ACCC estimates Australian businesses lost $227 million to payment redirection scams in 2021, a 77 per cent increase compared to 2020 [1].

Accounting platform Xero reports that 1 in 5 small businesses have been targeted by invoice fraud with 18% falling victim [2].
Hello Clever helps to reduce this with 'Confirmation of Payee', a part of every PayID payment, that clearly displays Launtel's name to the payer before the payment is made from their mobile banking app.
When combined with Hello Clever's unique and pre-verified PayID's, the likelihood of this type of fraud reduces significantly and provides their customers with additional layers of protection against scammers.
"With other payment methods, our customers knew they were sending their money somewhere but could never be 100% sure if or when it would reach us until it did. Now they know within a few seconds." Adam Poulton – CEO, Launtel
5. PayTo: The Future of Automated, Recurring Payments
Launtel is already planning to include Hello Clever PayTo in its payment mix, to deliver greater flexibility and speed in how it establishes and manages the collection of payments from customers on a recurring basis.
In addition to fully automating the direct debit setup process, Launtel is keen to offer a payment process that better suits their individual customers, rather than offer one approach for all.
For example, some customers would prefer to pay every two weeks while a monthly, six-weekly or quarterly plan would work better for others. PayTo allows Launtel to offer this level of flexibility whilst ensuring the customers consent at all times and leveraging the security of existing banking infrastructure.
"Working with Hello Clever has been wonderful, and I fully recommend them to any business." Adam Poulton — CEO, Launtel
About Hello Clever
Hello Clever is changing the way people think about money.
We are a team of qualified, experience and ambitious people who are completely dedicated to our mission to help millions of people feel good about their money and achieve their lifetime goals quicker.
For us, our values are more than just words. Together, we're fighting for the world's financial health, because we believe everyone should have the knowledge and the means to make better financial decisions.
To learn more about how Hello Clever has helped Launtel and our other customers, email us today at sales@helloclever.co